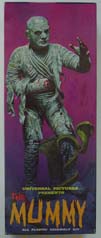 THE MUMMY 1963 Original Issue Model Kit
$225.



BLACKBEARD
1965
Rare
Model Kit
$325.


Very, Very Rare Forged Foil Stallion Model Kit issued in 1969
This kit was thought not to exist and was not available for the Bill Breugmann Aruora Book.
Kit # 446 It has 2 pieces glued and no painting done. all pieces are present.
Has the large tan base and foil packet with brush, instructions. Is missing the
black paint & tacky glue. The box has some pen marks on the face.
Super hard to find!
FORGED FOIL STALLION KIT 1969...$99.